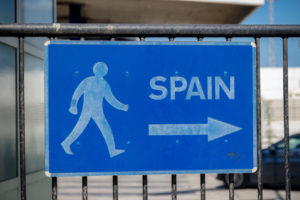 Spain is a country open to new trade and commercial relations for absolutely every corner of the world. Every day in the news we hear about new projects established by international relations, establishing ties with this beautiful, sunny country. Every year the number of companies around the world cooperating with Spanish partners only increases, all this leads to an increase in meetings between companies, a demand for more workers, and the need for qualified specialists from different parts of the world. That is why in 2013 the Spanish authorities thought about simplifying the bureaucratic issues of on the move employees, providing a residence permit on the basis of a long-term business trip to Spain.
So what is this type of residence and who can get it?
Employees of foreign companies who either have a representative office in Spain or have commercial or trade agreements with Spanish legal entities, according to which employees are sent on long trips, can apply for a Spanish residence permit. Simply put, you can get a residence in Spain if the company in which you officially work at for at least three months sends you on a business trip to a Spanish company. And thanks to social security agreements between Spain and a number of other countries, including Russia and Ukraine, among other things, moving employees between countries is much faster and easier than, for example, when applying for a standard residence permit with the right to work in Spain. The validity of this residence permit is equal to the duration of the "trip", but with a maximum period of up to 3 years. The first card is issued with a maximum period of two years, which can then be extended for another year.
Benefits
You can apply in Spain. Foreigners who are legally in the country at the time of filing out the application have the right to apply directly to the Spanish administrative authorities, bypassing the Consulate. If the applicant is located outside of Spain, it is necessary to contact the Consulate of Spain in the country of residence.
Taxes and social deductions for employees are paid in the country of departure. Of course, one of the most important advantages of this type of residence is that the cost of maintaining an employee and his salary are paid by the sending party. This means that the Spanish company does not pay salaries and taxes to the "travel agent", does not make deductions, as for other employees, to the Pension Fund. It should be noted that this situation is relevant only for countries that have signed a Social Security Treaty with Spain. To date, such agreements exist in the countries of the European Union, parts of the Latin American countries, Russia, Ukraine, and almost all former Soviet republics. However, there are a number of countries with which Spain has not yet signed this Agreement. For example, there is no similar document in Belarus and Montenegro, which makes it impossible to transfer employees of these countries to Spanish companies while preserving the conditions of remuneration and tax deductions in the country of departure. In this case, the costs of these employees will be on the "shoulders" of the Spanish companies.
Therefore, in order to avoid difficulties, you can clarify the presence of the Social Security Agreement in your country with our professionals here at Pro Spain Consulting who can provide you with this information in detail.
In case of internal corporate transfer, a so-called "Beckham Law" can be applied to a moving employee, namely, a specialist sent on a business trip can not become a tax resident of Spain for another 4 years after receiving the residence!
Another benefit includes getting one residence for the whole family. This type of residence permit includes permission for the whole family (spouses, children, parents who are economically dependent on the employee and dependent people, including "civilian" spouses). At the same time, they will have the same rights as a travel specialist to reside and work in Spain.
It doesn't take long to get your residence. Of course, as in any administrative body, delays happen, but usually one call or personal appeal from your lawyer is enough to speed up the process.
Documents for obtaining residence
Preparation of documents for filing an application for a residence permit must be handled by both parties, both receiving and sending.
. As a rule, the most appropriate option is to use the services of lawyers who competently carry out the procedure, including preparation, verification, translation and submission of documents, if necessary, personal support of the client in Spain until the issue of a resident card.
General requirements:
International passport
Medical insurance policy valid in Spain
Criminal Records Certificate
Documents confirming the official period of work of the employee in the company, sending the employee on a long trip, and under what conditions;
A diploma of higher / secondary education or a confirmed work experience in the specialty of at least three years with an apostille;
Documents confirming the fact of accepting a foreign employee to a Spanish company;
If there is a Social Security Agreement between the Kingdom of Spain and the sending party, you must provide a Certificate from the administrative body that state that the work experience will not be interrupted for the period of an internal corporate transfer.
Special requirements 
Both companies will be required documents confirming bilateral interest and communication, a transfer agreement, and also some mandatory documents from each of them.
Any bureaucratic procedure is always stressful and full of surprises, then they will ask for clarification of information, they will make a mistake that they will have to correct, then … unfortunately, it happens, they will simply forget about you. And if you add that traditionally in official institutions Spaniards do not like to speak English, your nerves will be tested for endurance more than once. Our team is ready to provide professional and operational assistance in preparing, verifying, translating, filing documents and accompanying a client in Spain until the issuance of a resident card. We will create the most favorable and relaxed conditions during the period of receiving the documents, and you will be able, without delay, to enjoy the life of sunny cheerful Spain.
Contact us today for more information. We are happy to help!
PSC verified information only