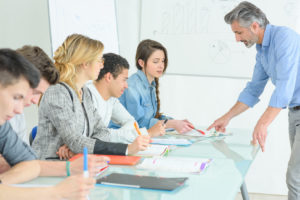 Spain has greatly simplified getting a Student Visa.
If you wish to get a high standard of education in Spain, now is the time as the country´s authorities have made radical changes in legislation dealing with migration. Now it is much easier to get a Student Visa.
Because of the advantages we now have with innovation, we can apply for the agreement document without going to the Spanish Consulate but do it instead directly here in the migration department in Spain.
It is no secret that the consulates of Spain worldwide can deny visa applications without a valid reason. They can easily find small errors or that you have not supplied them with all the documents requested e.c.t or find faults in the financial guarantees. This could include the age of applicant or the personal qualities of the applicant. But who said it is too late to learn in their 50´s or even in their 70´s?
The Spanish Parliament decided that it wasn't late but it was time that on the 4th of September 2018, there would be changes to article 38 of the law 4/2000 in relation to foreign citizens. From now on, anybody can obtain a Student Visa in Spain independent of their age or profession.
Without a doubt, there is a series of obligatory conditions:
1.At the time of applying for a visa, the applicant should be legally in the territory of Spain.
2.When applying for a Student Visa, the applicant should have at least 30 days of legal residence in Spain. For example: If you entered Spain with a tourist visa of two years, according to the Schengen Union, the applicant has the right to maintain in the Schengen zone for 90 days every 6 months. Therefore, when presenting documents, their stay in the Schengen area should not exceed 59 days out of the 180 days allowed.
3.An important point is the choice of an educational center where you plan to study. You must have a degree and meet a series of criteria. For example, if you want to take Spanish courses, you must choose a school accredited by the Cervantes Institute. In addition, the learning (studying) must take place in person, at least 20 hours a week. Upon completion of this, graduates are required to issue a diploma or certificate of completion.
4.Bare in mind, the usual medical insurance policy of a tourist that travels and that was accepted by visa application in the Consulate will not be accounted for in Spain. In the migration departments, this is a huge problem: Student Visa Applicants should be covered by an accredited medical insurance company in Spain.
Are you looking for an accredited medical insurance in Spain?
Contact us here at Pro Spain Consulting and our experts will help you organize a profitable program totally free.
Another important nuance: the new amendments to the law don't consider the student´s relatives. If the spouse and the children meet with you (the student) on a trip, they have to apply for a visa in the consulate of their country. BUT, not to worry! There is a way out: the family members can also apply for a student visa, observing all the previous conditions and applying for a visa such as the main ones.
According to the experts, now really is the easiest time to get an education in Spain and because the authorities are interested in attracting the most talented and determined students of all ages and professions to the country and are ready to create comfortable conditions for them. Given that Spain has affordable prices, in addition to its high standards of education, mild climate, warm sea and now that it is much easier to get a student visa, you can choose this country safely for your higher education.
Do you want to get a complete list of all the required documents for a student visa in Spain?
Contact us and our specialists will provide you with all the information.
PSC verified information only