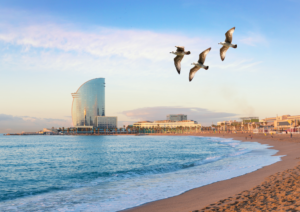 When we arrive in a foreign country, one of the challenges we face is renting a home. At this stage, many questions and doubts can arise. How and where to look? What should you pay attention to? Can I be refused because of my nationality?
By law, everyone is entitled to rent regardless of their country of origin. But in reality, it does not always work out like that with Reduan Mehdi, a native of Morocco, in Barcelona.
Reduan Mehdi is a computer engineer and has been living in Barcelona for 3 years. He was looking for an apartment closer to work and the sea, and his attention was attracted by one in the Barceloneta area.
The man had scheduled a visit with a real estate agency to inspect her. The apartment fully met all his criteria and he provided all the requested documents: the last 3 pay slips, a contract and a letter explaining his profession.
After providing information, no one else contacted him. The Moroccan made several unsuccessful calls to the agency. As a result, he felt discriminated against by the firm and sent them a letter describing his vision of the situation. In response, he received an explanation that it was not discrimination or racism and that the apartment had already been rented out to someone else.
The answer seemed odd since the agency might have reported it earlier. Then he decided to check it out with the help of a friend from Argentina. To their surprise, the apartment was freely available. During a visit to the apartment, the real estate agent assured his friend that everything was in order and that they could enter into a lease. At the same time, the financial viability was similar to Reduan.
Taking into account the facts and collecting evidence, the man decided to file a complaint. He contacted the Barcelona City Council's Non-Discrimination Office, which examined the case under Law 18/2007 on the right to housing in conjunction with the discipline and anti-harassment department of the Municipal Institute for Housing and Rehabilitation. This law obliges public administrations to prevent such discriminatory situations.
The City Council initiated an administrative sanctions process and imposed a € 45,000 fine. Defendants can go to court by filing an administrative dispute.
Civil Rights Adviser Marc Serra stressed that this is the first time in Spain that the Council has opened a criminal case for "direct discrimination by descent" in renting a home.
Although a few months ago, the municipal authorities have already opened a case for imposing sanctions on advertising an apartment "only for residents of Spanish nationality." The adviser hopes that this case will reach the public and various real estate operators.
Medhi showed how important it is to know your rights and fight for them.
PSC verified information only