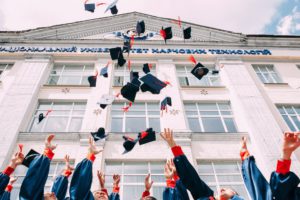 If you still have not decided which educational institution in Spain is better to go to, this article will be useful for you. We tried to identify the most significant differences between public and private educational centers, which are important not only at admission or in the learning process, but also at its completion.
STATE
– The cost of training is lower than in private institutions;
– There are various types of scholarships, which some are completely free for  students. To receive financial assistance, not only academic performance, but also the student's economic situation, activity and integration into the life of the institution are taken into account;
– The presence of a three-month or one-year study program in a foreign university based on Convenios Internacionales in almost any country in the world, including the USA, Australia, Japan, South Korea, China, etc .;
– Access to the ERASMUS program, that is, a year of being and studying in any European country. This experience is incredibly appreciated by both students and employers, because extensive co-working is happening this way, the range of useful contacts is expanding, and, as practice shows, plays a significant role in CVs, especially when a student plans to work in an international company. Of course, and when he opens his own business;
– Obligatory practical training. Universities, as a rule, have a large base of companies where students can practice and then even find work;
– International students after graduation can request a residence on the basis of búsqueda de empleo.
But there are some disadvantages to studying at a state university. First of all, it is very difficult to enter universities due to huge demand. But! Don't worry just yet! This is very valuable information! There is one solution, one might say, life hack called – ACADEMIC TRANSFER from a foreign university to a Spanish one.
In addition, in case of failure to pass the examination sessions in all subjects, the students could be expelled. But this year there have been changes for the better. In general, according to the experience of our friends, studying in a state university is still more difficult than in a private one.
PRIVATE
The most obvious plus is a fairly simple enrollment, and in general, training is noticeably easier, especially for foreigners. Many programs in English. Another feature is that teachers are mainly practicing specialists, not theoreticians.
As for the minuses, in the first place – the cost of studies of course. And another important point – not all private educational institutions are able to provide the necessary details for a student to apply for a residence permit like búsqueda de empleo.
Are you interested in this article? Contact us today for more information!
PSC verified information only