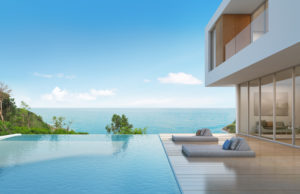 When it's miserable, cold and gloomy outside, you might began to wish you were somewhere else.. Perhaps in Spain? The sunny paradise. Just imagine what it's like to have your own beautiful home in this paradise. It's great when the house of your dreams can be got with what's in your wallet. But what do you do when this is not the case? It's not as bad as it seems. The Spanish banks policy is so loyal that the accredited national organizations are ready to give out mortgages not only to their citizens but also to the foreign residents that receive an income in another country.
And you heard right, some of the biggest banks in Spain, are ready to give out mortgages up to 50% of the value of acquired property to foreign citizens with an outstanding mortgage lending rate of 1.75% to 3% per year. This percentage is beneficial for successful investors, those who instead of investing the total amount in their properties, they use all the benefits of the Old World and those who want to invest in property with a minimum starting capital.
Before issuing a mortgage loan, the bank has to evaluate the purchased properties and the finance performance of the applicant. Based on these evaluations, the funds are allocated.
The main documents required to get a mortgage loan are:
• Valid international passport
• Preliminary agreement of the deposit for the acquired property.
• For owners of their own business, an employment contract or a certificate of their employment with indication of their position, salary and work experience
• For the property owners of their own business, a certificate of tax registration as individual entrepreneur.
• Certificate of income
• Certificate of ownership of existing property.
The list and rules of paperwork should be clarified in advance since they may differ in different banks and different situations.
Redemption method
In majority of cases the payment is made monthly. Initially, the payment terms are discussed by the borrower and the banker and are written in the contract.
Repayment terms
The mortgage loan in Spain is issued for a long time. Before concluding a transaction this issue was discussed separately with the bank, so the repayment period is 15 to 30 years.
To sum up, it is worth noting once again that the Spanish banks treat foreign citizens in a fair and favorable way and if you provide all the necessary documents, you have a great chance of getting mortgage loan approval.
If you would like to take out a mortgage loan in the most favorable conditions for you, you can always use the services of professional consultants in our company, Pro Spain Consulting. We work with the largest banks in Spain, helping to choose a profitable mortgage program and take control of the entire document process.
Contact us today!
PSC verified information only