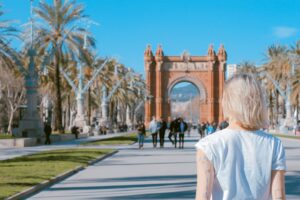 Many individuals decide to come to Spain, either for a short duration or to reside, study, or work. With summer approaching, it is quite common for many to visit Spain as tourists, either for a few days or for their vacations. Depending on your situation, you may require a tourist visa.
If you are a national of a country that needs a visa to enter Spain for a short period, pay attention to this article and video, where we explain all the documents you need to apply for a tourist or short-term visa to Spain.
If you are a national of a country that requires a visa for a short stay in Spain, you must go through the Spanish Consulate that corresponds to your jurisdiction.
The first thing you need to do is contact the Spanish Consulate to inquire about the visa application process. Sometimes, they use intermediary companies or handle the process online. Check the Consulate's website to see if they use these tools for processing tourist or short-term visas to Spain.
The required documentation includes:
Schengen Visa Application Form.
Valid travel document, such as a passport or travel certificate, which should remain valid for three months after the planned departure from the Schengen territory.
Round-trip flight reservation or airline ticket indicating the travel dates and itinerary.
Proof of accommodation for your stay:
Hotel reservation or
Invitation letter from a private host, with the host's residence certificate issued by the relevant Police Station.
Sufficient financial means to cover your expenses during the stay in Spain:
For your sustenance during your stay in our country, the amount must represent (in euros) 10% of the gross minimum wage (€108) or its legal equivalent in foreign currency, multiplied by the number of days you intend to stay in Spain and the number of people traveling with you. The minimum amount must represent 90% of the gross minimum wage (the minimum wage for 2023 is €1,080) or its legal equivalent in foreign currency per person, regardless of the planned length of stay.
You can demonstrate the availability of these financial means through cash, certified checks, traveler's checks, payment letters, or credit cards. In this case, you must also provide an up-to-date bank account statement or passbook. (Note that bank letters or online bank statements are not accepted.) If you do not have any of these forms of proof, any document that reliably demonstrates the available amount on the card or bank account may be used.
International travel medical insurance:
The medical insurance must cover any expenses that might arise due to your medical repatriation or death, urgent medical care, or hospital emergency care during your stay in the territory of the Member States.
The minimum coverage must be €30,000.
You must also justify the purpose of your trip and provide sufficient evidence of your situation in your country of origin or residence. If the Spanish Consulate doubts your intention to return to your country, the visa will be automatically denied. Therefore, we recommend providing evidence of your employment, family, and social situation to assure the Consulate that your trip is for a short period, and you will return to your country of origin or residence.
Exceptionally, you may need to present the medical certificates required by the Ministry of the Interior, in accordance with the Ministries of Health and Labor and Immigration, or according to European Union regulations. The requirement for these certificates will be disseminated, to the extent possible, with sufficient notice.
Original proof of payment of the visa fee.
In the case of minors, birth certificates and permissions from both parents to leave the country, indicating the departure and return dates to the country of origin. The application must be submitted by their parents or, if necessary, the legal representative duly accredited by a notary public.
These are the general documents required for a tourist visa application. However, it is best to confirm with the Spanish Consulate if any additional documents are needed for the approval of this short-term or tourist visa.
If you need assistance with any immigration procedure or applying for Spanish nationality, trust our experienced team at ProSpain Consulting to get you sorted.
PSC verified information only