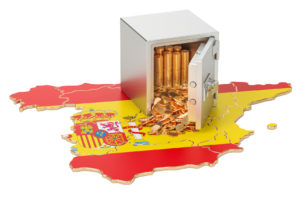 Government mitigates requirements for issuing visas to investors
The government has prepared a number of changes to the system for issuing residence permits from 2013, provided in exchange for investment in Spain, which soften the requirements and include recipients of cohabitants and children over 18 years of age.
The so-called Golden Visa was created to attract foreigners from outside the EU who must either buy expensive housing (minimum price from 500,000 euros excluding taxes), or invest 2 million euros in national debt or buy shares for 1 million euros, as well as those who will implement business projects. For 15 months, from September 2013 to December 2014, a total of 530 wealthy foreigners received a residence permit in Spain this way, which does not require living in the country, and most of them (490) received a document in exchange for buying elite housing . While real estate owners are mainly Russians, Chinese and Arabs, the country that supplies the largest number of entrepreneurs is the United States.
The administrative body considers the trend of this year to be positive, but decided to change some technical and legal aspects that impede obtaining residence permits. For example, one entrepreneur wanted to open a company in the Spanish capital when he graduated from a business school in Spain, but had to first leave the country, and then start the process and make a request from abroad. This project was lost, and the entrepreneur decided to open his own business in the UK.
Now, such entrepreneurs can apply for a residence permit while directly in Spain, without first requesting an investor visa from abroad.
Of the 530 residence permits issued to investors, a dozen correspond to projects called "common interest," while 29 are related to equity investments and 490 to real estate purchases. In addition to investment permits, residence permits were issued to 82 entrepreneurs, 1,231 highly qualified specialists, 369 researchers, 907 residence permits were associated with internal transfers, 2,461 relatives received residence permits.
Similar programs exist in countries such as Portugal, Cyprus and the United Kingdom, with different conditions for attracting investment. In Spain, according to the executive branch, 700 million euros were invested (almost 370 million euros in real estate and 234 million euros in entrepreneurs), and about 12,000 jobs were created directly or indirectly.
No economic conditions for obtaining these residence permits or any legal guarantees were changed, however, the process was simplified from a technical point of view: the program can also be used by cohabitants, not just legal spouses, adult children and economically dependent relatives in an ascending line .
In the case of the purchase of real estate, a visa or residence permit for six months is also issued to those who have not completed the acquisition of real estate, but have already signed a deposit agreement and have deposited money (you can temporarily stay in Spain during the purchase process).
In addition, before the time between financial investments and visa application could not exceed three months, now this period has been extended to one year.
Another change is that investors will no longer have to visit Spain to request an extension of a residence permit. In addition, these permits will not need to be updated every two years (and to prove the validity of the investment). This procedure will need to be done every five years.
During the process of applying for a residence permit, both in case of request and renewal, it will be possible to reside in Spain until the end of the procedure in order to avoid what happened to those foreigners who expired while requesting the  extension of the permit and were forced to leave the country  for the period of the procedure.
Do you have any questions about this article?
Contact us now for more information.
PSC verified information only